In early 2022, MENTARI (Menuju Transisi Energi Rendah Karbon Indonesia), the UK-Indonesia low carbon energy partnership, received GBP 2.7 million additional grant funding from the UK Government to support the acceleration of renewable energy infrastructure initiatives in Indonesia.
MENTARI and PT Sarana Multi Infrastruktur (Persero) ("PT SMI"), signed a partnership to utilise the investment grants for renewable energy projects in Indonesia.
As part of G20 Energy Transition Working Group side events, on 1 September MENTARI and PT SMI signed an agreement to start a partnership to support renewable energy financing in Indonesia. This collaboration aims to accelerate the low carbon energy transition, which will promote economic growth and further efforts to reach universal and inclusive energy access. This agreement will support the achievement of the Sustainable Development Goals ("SDG") through the SDG Indonesia One ("SIO") platform managed by PT SMI. Signing on behalf of MENTARI Programme was Julio Retana, Team Leader of MENTARI, while Darwin Trisna Djajawinata the Director of PT SMI, represented PT SMI.
In January 2022, MENTARI received additional grant with the total amount of GBP 2.7 million or equivalent to IDR 47.5 billion from the UK Government for catalytic funding to support renewable energy projects. This grant will enable MENTARI and PT SMI to support renewable energy projects by reducing the perceived risks of funding and improve its bankability.
Renewable energy projects represent only 8.3% of SMI's credit portfolio; however, MENTARI is excited to support PT SMI's commitment to raising this portion to 15% by the end of the year. The blended finance scheme will include a grant component, which could be up to 20% of the total capital expenditures, and a loan facility from PT SMI. The funding will focus on renewable energy projects for power generation that promote sustainable economic growth, full and productive employment opportunities, and inclusive work for all.
Investment in the low-carbon energy sector in Indonesia is still relatively low. A shortage of well-developed and bankable projects remains a key barrier. These circumstances have pushed many investors in to a wait-and-see mode amid low tariffs and high material costs. To address these issues, MENTARI provides direct technical assistance for developers and investors in renewable energy sector, both local and international, to improve project quality and investors' capacity to catalyse public and private investment in renewable energy projects in Indonesia.
This type of innovative financial scheme is limited in Indonesia. Additional financing options from the investment grant will contribute to social and economic benefits for the community, further innovation, and increase investor appetite for low-carbon energy in Indonesia.
Darwin Trisna Djajawinata, Director of PT SMI, stated: "PT SMI as a Special Mission Vehicle under the coordination of Ministry of Finance Republic of Indonesia, has the commitment in supporting a sustainable development of the country. We believe this collaboration with MENTARI will accelerate the increase of renewable energy in Indonesia's energy mix, which will drive the achievement of the Nation's NDC target and the Sustainable Development Goals (SDGs)."
Amanda McLoughlin, Development Director British Embassy Jakarta said: "The MENTARI programme is always looking for innovative ways to support investment in renewable energy in Indonesia, so I am pleased that MENTARI is partnering with PT SMI. I hope that with our grant support, together we can help to bring about more sustainable, clean energy projects that promote affordable and inclusive energy access".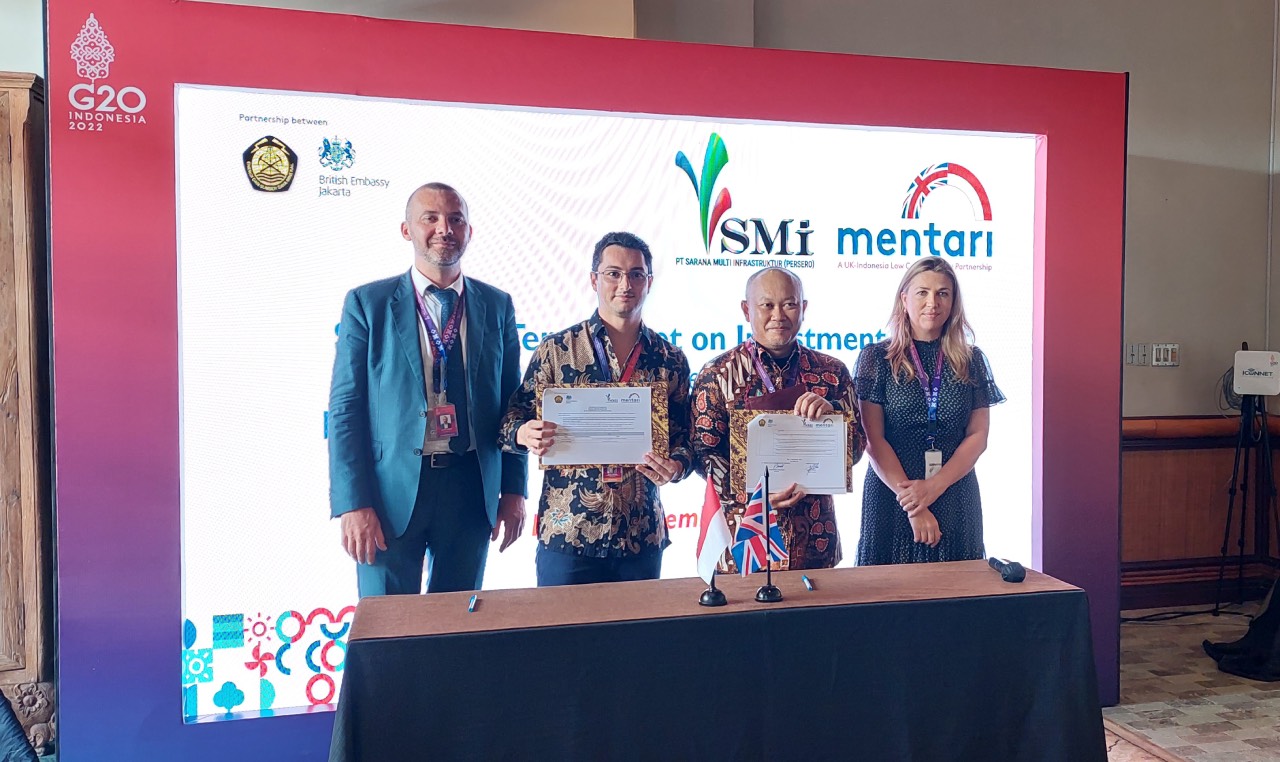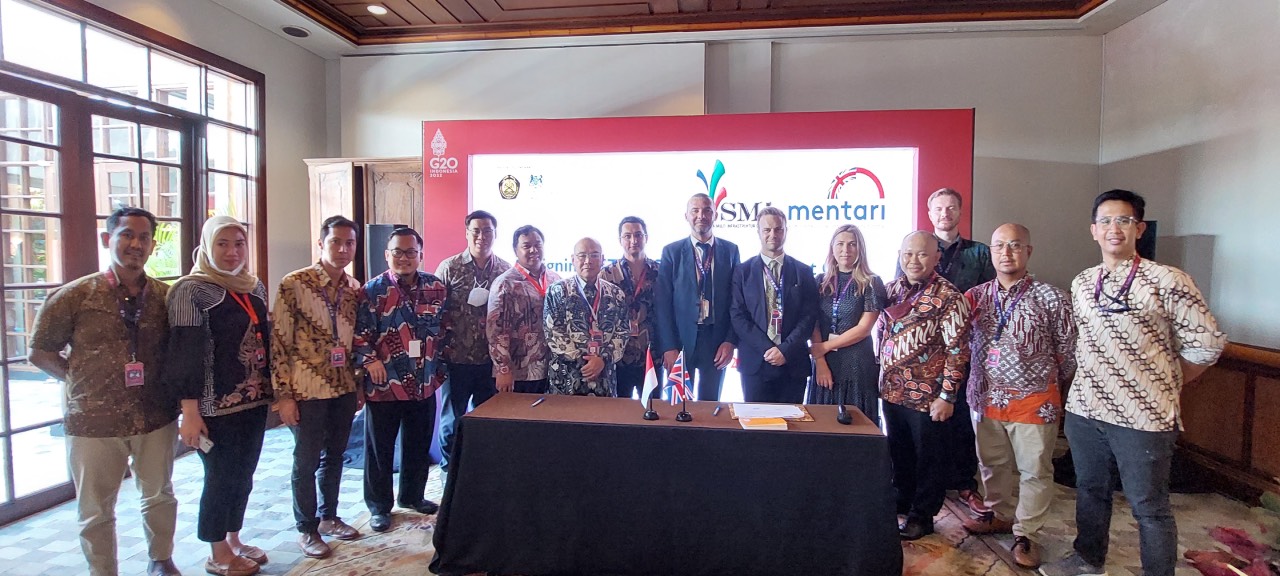 ---
Note to Editors:
About MENTARI
MENTARI Programme, led by the British Embassy Jakarta and its partners with supports from Ministry of Energy and Mineral Resources of Indonesia, aims to deliver inclusive economic growth and poverty reduction in Indonesia, by supporting the uptake of low carbon energy. The programme has a specific focus on developing the low carbon energy sector to best support disadvantaged communities, and specifically those in eastern Indonesia.
MENTARI is a four-year programme, running from 2020-2023. MENTARI delivery partners are Palladium International, Castlerock Consulting, Yayasan Humanis dan Inovasi Sosial (Hivos), and ECA.
For more information on MENTARI programme, please visit www.mentari.info
About PT SMI
PT Sarana Multi Infrastruktur (Persero) was established on 26 February, 2009 as a State-Owned Enterprise under the coordination of the Ministry of Finance in the form of a Non-Bank Financial Institution (LKBB), with a role and mandate as a catalyst for the acceleration of national development.
PT SMI has various functions and unique products/features to support the acceleration of infrastructure development which not only functions as an infrastructure financing but also as an enabler through the implementation of a Public Private Partnership (PPP) scheme which includes various financial institutions, both private and multilateral. PT SMI actively supports the PPP implementation and encourages the acceleration of infrastructure development in the regions through regional loan products.
PT SMI has three business pillars, namely (1) Funding and Investment, financing for infrastructure projects, (2) Consultancy Services, solutions to the needs of professionals and experts in the infrastructure sector, and (3) Project Development, assistance for the Person in Charge of Cooperation Projects (PJPK) in preparing infrastructure projects. https://ptsmi.co.id/
For further information, please contact:
British Embassy Head of Media and Communications

Jeff Matthewman – Jeff.Matthewman@fcdo.gov.uk +62 (0)811 82266 85
Faye Belnis – Faye.Belnis@fco.gov.uk +62 (0) 811 87777 62

MENTARI Team Leader – Julio Retana – julio.retana@thepalladiumgroup.com +62 82110049187
PT SMI – Corporate Secretary

Ramona Harimurti – Ramona@ptsmi.co.id