By: MENTARI and REEP2
In anticipation of Presidential Regulation No. 112 in 2022, MENTARI has developed guidelines for determining renewable energy quotas using the Renewable Energy Grid Integration method that was published in 2020. Subsequently, MENTARI collaborated with the Deutsche Gesellschaft Zusammenarbeit (GIZ) Renewable Energy for Electrification Programme 2 (REEP2) on behalf of the German Federal Ministry for Economic Cooperation and Development to carry out a pilot case study on one of Indonesia's systems, of which East Nusa Tenggara (NTT) Province was selected. MENTARI and GIZ REEP2 teams collaborated with a national consultant PT Quadran Energi Rekayasa and international consultants, Economic Consulting Associates and Energynautics, in this study to conduct Renewable Energy Grid Integration modeling using several software tools, such as PLEXOS and DIgSILENT.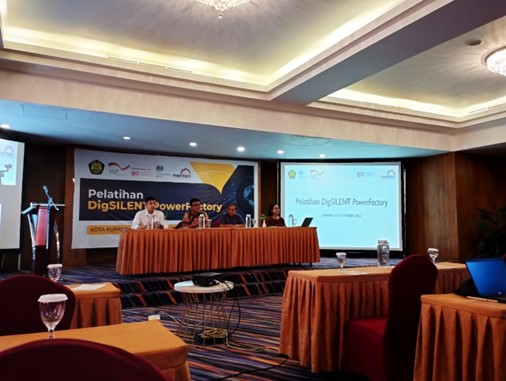 In building the model, MENTARI and GIZ REEP2 collaborated with the State Electricity Company or PT PLN Persero and East Nusa Tenggara Regional Master Unit of PT PLN (PLN UIW NTT) to provide DIgSILENT training for PLN and MEMR teams. The training was held in October 2022 in Kupang, East Nusa Tenggara, to strengthen competence and knowledge in implementing the same thing completed by MENTARI and GIZ REEP2. As a widely used tool, DIgSILENT PowerFactory software is an option for PLN in modelling the power system analysis and studying the critical conditions of the system. At the same time, more renewables penetrate the system.
Eighteen participants successfully participated in the five-day training with an intensive presentation and hands-on materials, assisted by the trainer team from PT LAPI ITB. All participants learned about DIgSILENT features, the theories and fundamentals beyond the calculation, how to model the existing electricity system, and how the analysis of all failures or critical situations simulated by the system due to more renewable energy added to the system. GIZ REEP2 and MENTARI will provide technical assistance for the upcoming months, where each participant will use DIgSILENT to model an isolated network system as assigned in their works.
As a follow-up, MENTARI, REEP2, MEMR, and PLN UIW NTT will discuss the results of RE Grid Integration Studies in October 2022 in Jakarta to review the data and information to determine renewable energy quota for NTT grid systems.