By: Yunita
* This article, written by Yunita, a member of staff at Don Bosco training centre, was selected as one of the best assignments during the 'Writing and basic photography' training workshop that MENTARI delivered at the centre.
The Don Bosco training centre in Sumba, East Nusa Tenggara, became a trusted partner in the MENTARI scholarship programme when it provided training for 24 young people selected from Mata Redi village and Mata Woga sub-village IV in Central Sumba. The selected participants from the two villages (unelectrified at the time) were divided into two training groups based on their interests and aspirations – either electrical training for the solar power plant system or training in furniture making in Mata Redi village. The training aimed to train the concerned young people and strengthen the community as part of the pilot project to develop the community by building, managing, and maintaining a new solar power plant.
The director of the training centre, Brother Ephrem Santos, was mandated to assist in and oversee the training. Still, he wanted to be involved in the end-to-end process, including working with the team directly in the field to select the participants.
He said, "We want the participants in this training to be young, committed and highly motivated. Their drive must however be supported by their families, who must allow [them to participate]. If the parents pose any obstacles, we need to find the best way to address their reservations. I will immediately know if the youngsters taking part in the selection were forced to apply or because of their strong desire [to do the training]. I visited Mata Redi village at least seven times – to assess conditions in the village and understand the lives of the young people joining our activities."
Brother Ephrem is not Sumbanese; he was born in Manila, Philippines, on 18 June 1961, but has been an educator since 1983 and has managed the Don Bosco training centre in Sumba since 2019. He is proficient in various languages, including Tetun, one of the languages spoken in the area. He was quick to adapt and down to earth in his approach to the Mata Redi community and concerned himself with talking to the participants' parents and village officials. People accepted him with warmth and were willing to listen to him.
In chatting to Stefani Karmelita, better known as Meli, one of Don Bosco's computer teachers, she made the following comments about Brother Ephrem said, "When talking to parents, he shows respect and humility, people, therefore, return the same level of respect and listen to him attentively. For example, parents were convinced by his remarks on the value of good education for the youngsters selected for the training. The young participants also felt comfortable with him when he was interviewing them directly. They shared their thoughts by describing him with these words: 'He is indeed a good educator …and very wise!'"
Brother Ephrem asked Meli to help him when he approached the people in Mata Redi and Mata Woga to inform them about the MENTARI scholarship programme. She is from the Anakalang community and a resident of Mata Woga, so she understands the ins and outs of the village, as well as the character of the community there.
Brother Ephrem was patient despite the challenges faced in involving key village stakeholders and disseminating information about the course. He and his staff shared the responsibility of picking up participants and gathering the community to keep them informed about the scholarship programme.
As Meli explained, "We shared the tasks, picking up prospective participants and even residents we considered to be potential candidates for this training. I also asked my sister to call on residents and invite young people to participate in socialization activities at that time. We borrowed a motorbike to reach the most remote areas. Brother Ephrem wanted to call on the residents, especially the young people from these areas, and get them involved. It was difficult to get to the most remote areas, considering that one sub-village is far away and only reachable through challenging roads. However, two hours later, the people were gathered, and the event could begin. We managed to provide the information to the right target audience."
Brother Ephrem also visited the families of prospective participants to interview their parents and observe their way of living. By exploring the character of the village and the habits of the community, he and his team were better able to provide appropriate teaching methods in the training as he told us, "From there, we could design the right approach/model for the selected participants. We are not just training young people in the skills required by the MENTARI programme but, more than that, we want to build their character as well. We created the training with an interest in delivering it adopting a humane approach, allowing participants to be comfortable in their own skin and building positive attitudes. We provided training meant to develop entrepreneurship, critical thinking, and creativity – so that they can continuously improve themselves."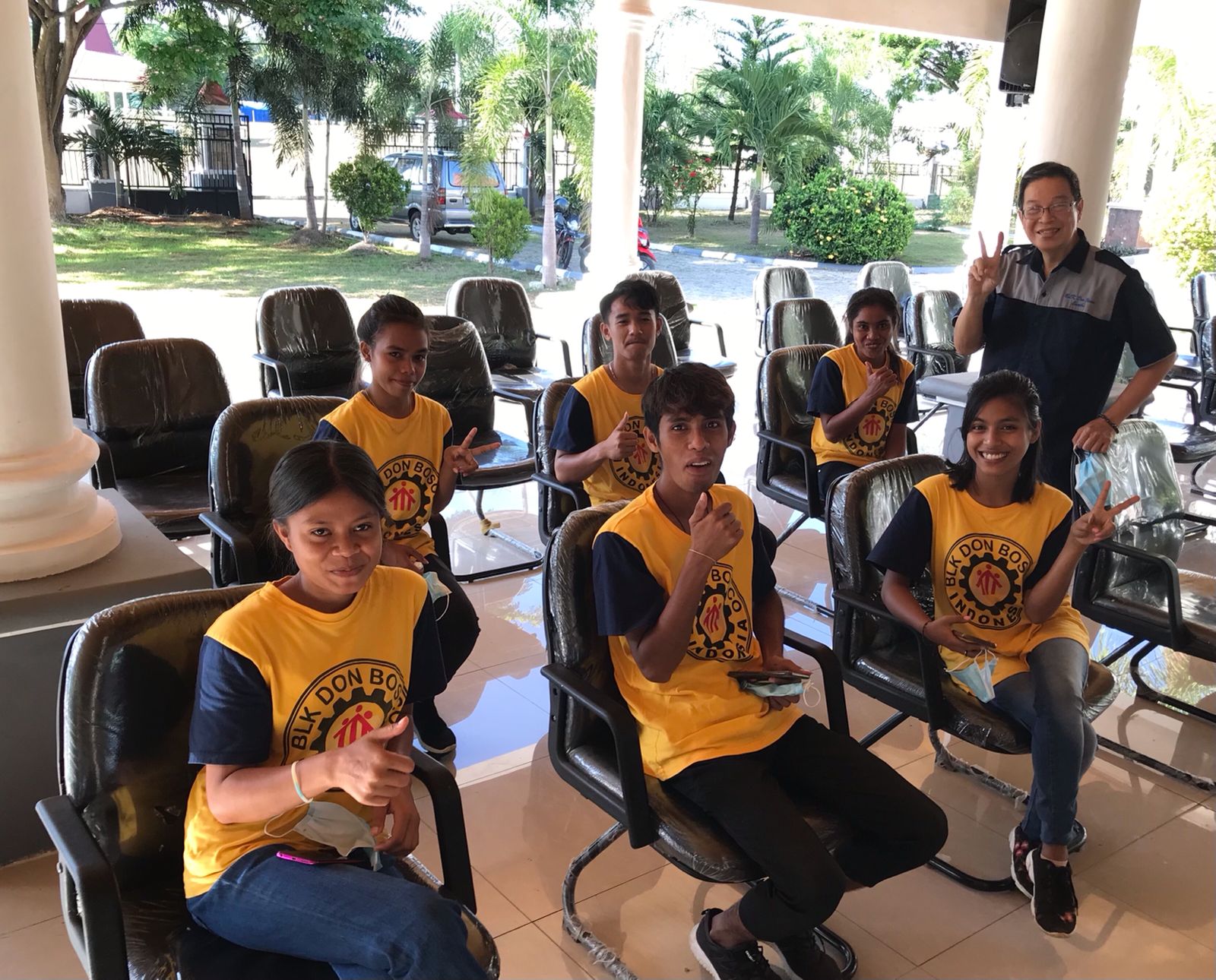 Brother Ephrem added that he was not looking for children with high IQs and good academic scores. If potential participants were serious and interested, and their goals related to the new skills the training would offer, these were the criteria used for the selection of candidates. He also assessed all potential candidates – young women and men – equally. Aside from the preliminary work in the community, selecting candidates, and deciding on the best approach, he did not hesitate to become directly involved in teaching, facilitating, or mentoring – especially for the furniture training course – a field he has well mastered.
The teaching staff at Don Bosco see Brother Ephrem as humble and down-to-earth. He also demonstrated to both staff and students the meaning of orderly living, discipline, and good timekeeping. He appears strict on the surface, but he has a good sense of humor and is always kind to others.
Yunita, one of the instructors involved in the scholarship program, told us why she admires Brother Ephrem, "As a staff member working with Brother Ephrem at Don Bosco training centre, I have learned many things from him, such as discipline, honesty, and obedience while working – also to be a believer and not to waste time. While he is always hard working and firm in educating others, he does not pressure the staff and students he educates. He continues to provide good opportunities for staff to improve their skills and knowledge through training programme trainers themselves. Moreover, he prioritises safety in the work environment for staff and trainees, since in our place of work we use many tools that can be risky and cause accidents."
Brother Ephrem is known among the Don Bosco congregation as one of their most reliable educators. Being an educator has been his aspiration since he was a teenager and still living with his humble family in the Philippines. His parents sent him to a Catholic school led by a brother like he is now.
He saw being a clergyman and an educator simultaneously as a privilege. The two roles mean he can help to empower young people by opening up opportunities for them and could also motivatee young people who were less fortunate and often neglected by the system.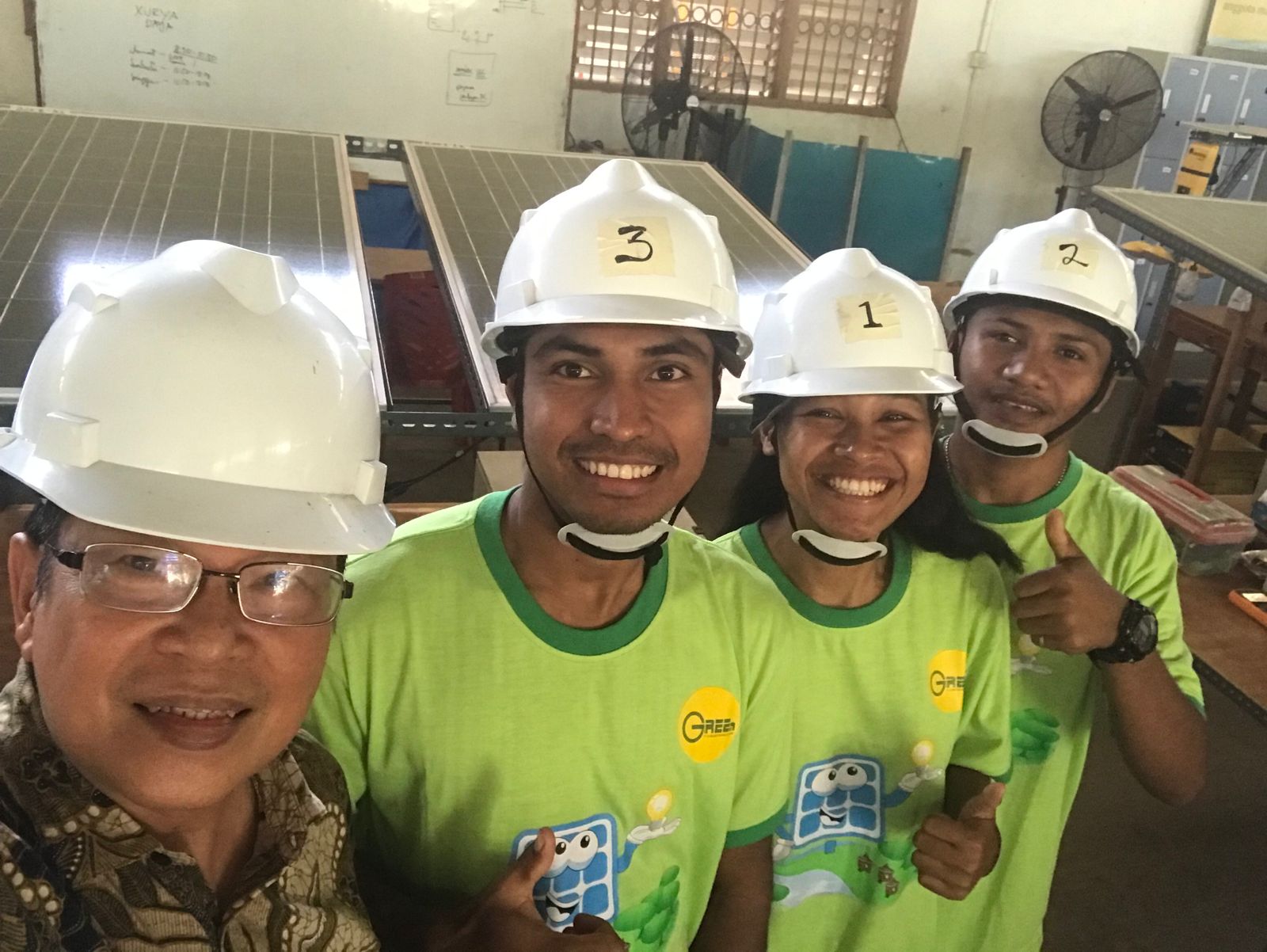 Brother Ephrem wanted to empower village children in Sumba through education. This empowerment work, as well as his religious belief, were inspired by Saint John Don Bosco, an Italian priest, and educator. He was saddened to see young people from the villages being excluded and impoverished because they did not have adequate skills and education and could not find decent jobs.
In line with Don Bosco's vision and mission, Bother Ephrem welcomed MENTARI with open arms when the programme sought his cooperation on the training courses.
Brother Ephrem's work experience:
1983–1985: Don Bosco vocational school (SMK) teacher, head of the Electrical Department, and head of the Vocational Training Department in Makati City – Philippines
1985-1987: Don Bosco SMK teacher and head of Production – Mandaluyong City
1987-1991: Don Bosco SMK teacher and head of the Electrical Department – East Timor (Indonesia)
1991-1999: Don Bosco Training Center instructor, director, and head of the Electrical Department – Dili, East Timor
2001-2012: Don Bosco Training Center instructor, director, and head of Electrical Department – Tigaraksa
2013-2014: St Yusup Blitar SMK teacher – Central Java
2014-2018: Secretariat of Social Communications for the SDB order – Rome, Italy
2018-2019: Don Bosco SMK teacher and head of the Electrical Department – Sumba
2019 – present: Don Bosco Training Center instructor and director – Sumba